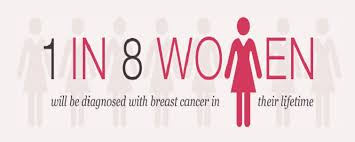 We Race Because…
One

in

eight

women in the U.S. will be diagnosed with breast cancer in her lifetime.
Because

every minute

, somewhere in the world, someone dies from breast cancer.
And because, breast cancer knows

no boundaries

- be it age, gender, socio-economic status or geographic location.
We continue to Race because at the current rate,

13 million

breast cancer deaths around the world will occur in the next 25 years.
But, when you participate and fundraise for the Race, we fight these statistics together. In 1980, the 5-year relative survival rate for women diagnosed with early stage breast cancer (cancer confined to the breast) was about 74 percent. Today, that number is 99 percent! Komen has played a critical role in every major advance in the fight against breast cancer - transforming how the world talks about and treats this disease and helping to turn millions of breast cancer patients into breast cancer survivors. This progress was made with your continued support and together we can reach our vision of a world without breast cancer.
Lupe Cerda
Lupe Cerda came into the Komen San Diego office a few weeks before the 2014 Race for the Cure to sign up 43 team members and donate $625. She told us that because she had no insurance and very little money she turned to Komen. Komen's grantee, La Maestra Clinic found her breast cancer and treated her. She sold tamales door to door to raise this money so she could help give back to Komen who helped her.

Lourdes
Meet Lourdes Moreno.
Lifelong professional cook. And in-treatment breast cancer patient since 2012. When 53-year-old Lourdes was diagnosed with breast cancer, she got two doses of bad news—her doctors told her the hot kitchen she worked in was unhealthy, and she needed to stop working in that environment. That day in the doctor's office left her without income. Without health benefits. And with what she thought was a death sentence.
Luckily for Lourdes, a community surrounds her here in San Diego ready to help, as they do with all breast cancer patients who do not have the resources every woman in her position deserves. The funding starts with Susan G. Komen San Diego to get her through this challenging time and into the breast cancer survivor phase.
With no income, comes no meals. Enter Mama's Kitchen. This volunteer-driven, nonprofit organization prepares and delivers food to people in San Diego affected by cancer or AIDS. Lourdes enjoys three healthy and nutritious meals a day thanks to the people at Mama's Kitchen. To Lourdes, the meals give her comfort in knowing that she's being given the nutritional strength to battle back against her breast cancer, which is so important to a woman's fight against the disease.
Through Komen-funded grants, Breast Cancer Solutions pays for her transportation to and from treatments, Family Health Centers of San Diego provides her patient navigation services, she went to Sharp Coronado for her mammogram, and Sharp Chula Vista for radiation therapy.
"I'm so grateful. I'd either be starving or dead right now if I didn't have this support," says a surviving Lourdes.
Her family and friends were meaning well when they helped cook for her. But the traditional preparations were mostly carbohydrates and fatty foods, the breads, tortillas, and carne asada, for example. Along came excessive weight gain, which is common among people with hormone-based cancers, such as breast cancer. But it gives them a higher risk of the cancer returning.
Ever since Mama's Kitchen began serving Lourdes three nutritious meals a day, her weight began to return to a healthy level. Lourdes credits the tasty, well-balanced, portion-controlled meals for the comfort she is now enjoying. Feeling so much better, she has transitioned off Mama's Kitchen's meal delivery service, to self-sufficiency. Lourdes proudly says today, "Live life, be strong. Cancer is in my body, but it's not who I am." Who is she? She is the mother of two and grandmother of four. And who knows what else in her future?
Komen San Diego is the only organization that provides qualified women the free services they need for every step of the breast cancer survival journey. These services include free diagnostic mammograms, life-saving screenings, surgeries, temporary financial aid for living expenses, meal deliveries, education, outreach and more. Wherever there's a gap—Komen fills it.
Komen San Diego continues to be the County's largest funder of free breast cancer treatments, services and support. And, next to the U.S. government, Komen is the largest funder of breast cancer research in the world.
Irene Oberbauer
Fundraiser Extraordinaire

Over the past four years, Irene Oberbauer has raised more than $100,000 for Susan G. Komen San Diego. Put that in real terms: $100,000 funds 800 lifesaving mammograms, 8 complete courses of chemotherapy or 2,000 days of meals for women struggling to put food on the table during treatment.
"Imagine. Each of us has the control of potentially saving someone's life by just asking the question, 'Will you help?'" said Oberbauer.
Between a personal e-newsletter that she sends to her family and friends, coin canisters that she asks her local dry cleaners and florist to put at their front desk, a casino game night she throws, tremendous support from her family and donating herself—Irene is one of Komen's top fundraisers and a force to be reckoned with.
"A lot of people have apprehension about asking for support or donations—but I know Komen's mission is too important and I never hesitate. If someone says no, that's okay, I'm not working to change their mind, and I turn it into an opportunity to educate them."
In the same year that Irene was battling stage three breast cancer she lost her sister to a combination of breast, brain and lung cancer. Now she literally walks in her sister's shoes every Race for the Cure and is unwavering in her dedication to support the women in our community battling this disease.
"A day doesn't go by without thinking that it's going to come back. I can only hope that every dollar I'm raising is going to keep that from happening."
Learn creative ways you can get your friends, family and neighbors inspired to fundraise like Irene.