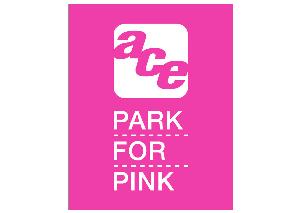 Ace Parking - Park for Pink
Dear Valued Partner,
At Ace Parking, we like to live our tagline "We see the people, not the cars." In that spirit, Ace is proud of our annual PARK FOR PINK program designed to raise awareness, generate funds and motivate the community to help find a cure for cancer. Each year, Ace makes a sizeable donation from the proceeds of our nationwide parking operations to organizations such as the Susan G. Komen Foundation for breast cancer research, the Leukemia & Lymphoma Society and the American Cancer Society among other worthy organizations in their quest to find a cure and treat those who are challenged with the disease. This means that every time a customer parks with Ace at our parking facilities, these worthy organizations benefit. Thus, PARK FOR PINK is truly a way for the entire community to get involved.
This public campaign began with a private struggle. Some people know us for our slogan Every Thank You Earned. And it's true that we have a long history of being active community leaders and outstanding corporate citizens, as well as doing what it takes to help our customers and community. But PARK FOR PINK was actually inspired by my own family's fight against cancer. In the first year of our marriage, my wife, Megan was diagnosed with High Grade B-Cell Non-Hodgkin's Lymphoma that presented as a tumor in her breast. Only in her early thirties, Megan was faced with the reality of having to start an aggressive chemotherapy regimen. Our world was rocked to the core. Thankfully, Megan fought it successfully and now, several years after diagnosis and treatment, she remains in remission.

Having years now to reflect on this trial that my resilient & beautiful wife and I have endured together, we have tremendous compassion and empathy for those who continue to fight this battle. PARK FOR PINK was inspired not only by my own family's fight against cancer, but also by the many team members in the larger Ace family who are either directly or indirectly affected by this disease. That's why I am thrilled to be able to utilize Ace Parking as a platform for supporting those who are suffering from this affliction and assisting those who will one day find a cure.
Founded in 1950, Ace Parking is a third-generation Jones family company with a deep history of supporting our community, valued clients, team members, and parking customers. Together with you as our partner, Ace Parking is dedicated to being part of the solution to finding a cure.
We welcome additional donations from customers, clients, team members and members of the community to join us in the battle against cancer. Money raised on this website will go directly to the Susan G. Komen Foundation for their lifesaving research and support for people battling cancer.
As always, thank you for your continued support.
Very truly,
Keith B. Jones
Managing Partner
Owner
View More

Alva Whetton
$0

Ace Parking - Park for Pink